Macky Shines in the Huntington Beach 4th of July Parade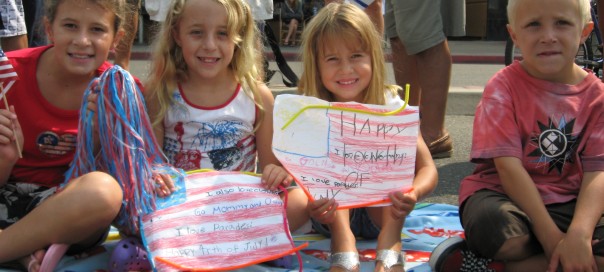 Wow!!! Where to start? Yesterday was such a mix of emotions. Such a rush of adrenaline to see friends, family and total strangers along the parade route supporting the cause, sadness because I hate the reason we do this and also know McKenna would have loved it, gratitude for everyone involved and those that stopped by the booth after to donate or just share their stories.
Let me dwell for a moment on the gratitude bit. We have so many people to thank for making yesterday a reality.
First and foremost, our utmost gratitude to Lisa Roberts for having the vision and seeing it through to the very end. She put in countless hours in planning, design and coordination. Not only did she promote awareness for pediatric brain cancer, we even won 3rd place overall in the parade!!!
To the Tijuana Dogs – what can we say. You rocked the parade and I am pretty sure they will be talking about this one for a long time to come. To Ken Todd for float construction and design- we thank you and your entire family for being there through thick and thin. Roxann and Art Ciancio for all of your support always. To John Brunton for donation of the flatbed, and our driver and his wife for donating their time. And finally, to our"Butterfly Brigade", thank you for walking and supporting the foundation. It was with pride that we watched McKenna's classmates, friends and family bringing awareness and work to make a difference in others lives.
I would like to think that McKenna was there yesterday, and though I don't know if I believe in signs, this one was pretty hard to ignore. As the float came to a stop at the end of the parade, with the gaggle of kids still standing behind, a large monarch butterfly swooped down over the kids heads, up to the float, circled once and flew away.  All of the kids were pointing and yelling "look!" I think McKenna was saying thank you.