2015 Play It Forward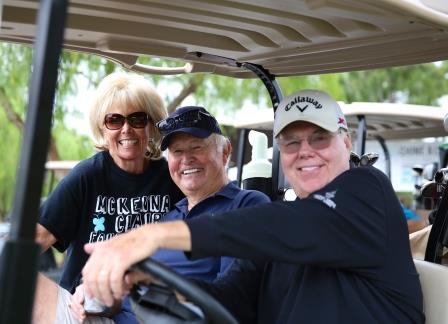 Thank you to everyone for your participation in the 4th Annual McKenna Claire Foundation Play It Forward golf tournament.   This year was was our best golf event to date, with nearly $70,000 being raised, continuing the Foundation's support of pediatric cancer research at Stanford and Weill Cornell Universities .
The weather finally cooled allowing a SOLD OUT gathering of business partners, volunteers, and an amazing community to enjoy a perfect afternoon in the sun.    The on-course support of Costa Mesa Honda, South Coast Toyota, AUDI of Mission Viejo, The Lazy Dog Cafe, The Butchery, Lou's Brew, Heineken USA, PBR, and New Belgium Brewing made for a perfect blend of golf, on course contests, and merriment.    Thank You for helping us Play It Forward and raise funds for pediatric cancer research!
As part of our efforts, we were again honored to have as MCF Golf Ball Drop partners Eader Elementary, Sowers Middle, and Edison High Schools.   The students of the schools did an amazing job helping sell 2761 opportunity tickets and raising over $11,000 (combined) for their school programs.    The involvement of the kids and their passion to be part of the cancer solution is inspiring.    The McKenna Claire Foundation is proud to have you as partners.   Congratulations to this years Golf Ball Drop winner, Greg Luttrell.
Be it as a sponsor, guest, or volunteer, we are grateful for your support and look forward seeing you next year!
Next events:
Essex Mortgage | 1st Annual Poker Tournament ~Benefitting McKenna Claire Foundation
Saturday Nov 14th, 2015
5th Annual McKenna Claire Foundation | Party With A Purpose
Saturday May 21st, 2016